Knit Day!
Ok Everybody, It's Sunday. You know what that means.... Time for knitting meetup! Lesley, Simone and I all met up today at Cambridge Coffee Shop at Lee Branch. (every sunday at 2pm for those who are wondering!!) And today I have Pictures!
This is LesleyD and this is the teddy bear she was working on last week. Doesn't she rock. That sweater the bear is sporting.. Her first... WITHOUT Pattern!!! I'm so super Impressed!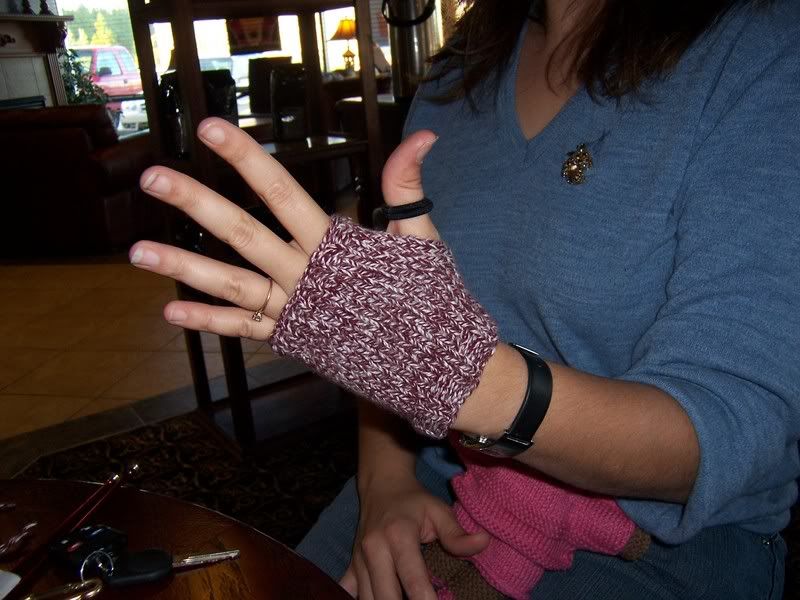 This is the first of her Fingerless Gloves she is making. Also sans pattern.
Wanna see a new addict in the making???
This is the lovely Symone! She just learned how to knit. Man if I had only learned that young!! I don't think she has become fully addicted yet but we're workin on her!!!
Oh and that's me. I'm working on the baby booty pattern Lesley gave me last week for a friend. They already look like booties, can't you tell!!! :)
Ok that's all the pics for now. If you too want to be famous and brag about all your knitting glory leave us a comment and we'll sign you up or come hunt us down on Sundays and we'll have you plastered on the site by the end of the day!!! Have a good week!